Opel at the Paris Motor Show 2016
543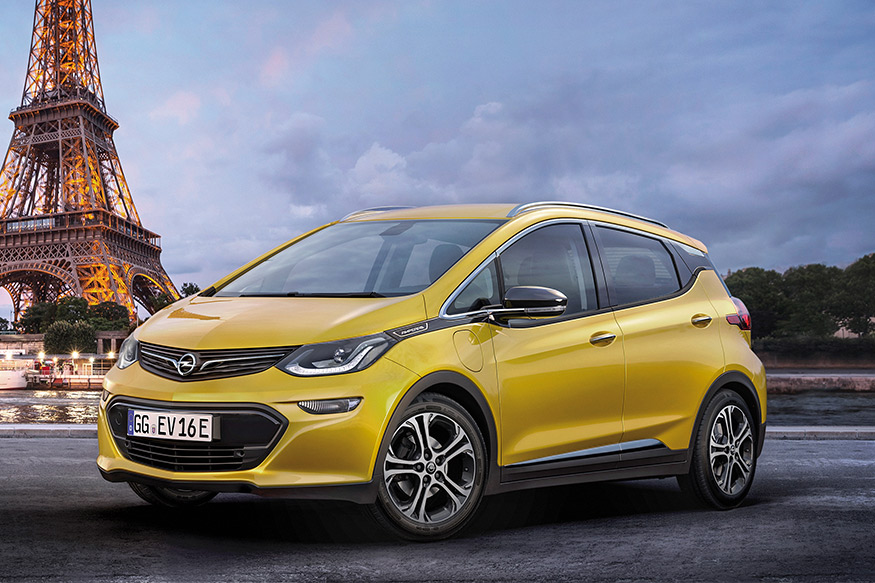 This world premiere is electrifying: Opel will revolutionize electric mobility with the introduction of the Ampera-e at the Paris Motor Show. At the brand's booth in Hall 5-2, Stand 501, the electric car will debut from October 1 to 16. The show's superstar offers a range of over 400 kilometers, well above competitors in this segment, and demonstrates how sustainable mobility and driving pleasure can form a harmonious unity. Opel will reveal more important news about the Ampera-e during a press conference in Paris, which will take place at the Opel booth from 12:15 pm on 29 September. Other big news from the manufacturer from Rüsselsheim in the Mondial de l' "Car 2016" is the adventurous MOKKA X and the new Zafira, a traveling luxury sedan on wheels offering a high level of connectivity.
"With the new Ampera, we are continuing our biggest model offensive in our company's history," said Opel CEO Dr. Karl-Thomas Neumann. "What we showed at the show clearly reflects the direction of our development work: Ampera-e proves that electric mobility is quite possible as an opportunity for everyday use and a lot of fun. The MOKKA X, Zafira and KARL ROCKS models expand our range, adding a flawless touch of adventure and individuality."
The maximum torque of 360 Nm is the "main culprit" of the electrifying temperament of the new Opel. Electric motor power 150 kW / 204 hp Smooth acceleration from a stop (for example, from a traffic light) and exit to the motorway are two of the main strengths of the Opel Ampera-e. The compact electric car accelerates from standstill to 50 km/h in 3.2 seconds, which is comparable to sports cars. In addition, it achieves intermediate acceleration from 80 to 120 km / h (which is especially important when overtaking) in just 4.5 seconds (preliminary data). Thus, Ampera-e has dynamic qualities at the level of OPC models, top sports versions of Opel (www.opelbook.ru/en).
At the same time, the Ampera-e offers significantly more mileage than most electric vehicles. According to the New European Driving Cycle (NEDC, the current standard for comparing different vehicles), the new electric car from Rüsselsheim can break the magical barrier of 400 km on a single charge (NEDC-based net electric mileage in km: >400; preliminary data). This makes Opel's new compact electric model the best in its segment by a significant margin. The unique compact Ampera-e is powered by a flat battery located in its floor-standing design. Efficient battery layout creates a spacious interior and the ability to comfortably accommodate five people with luggage space comparable to a five-door model in the compact class. Following the typical Opel philosophy, its space is combined with the best of digital connectivity. The Ampera-e has the latest generation IntelliLink infotainment system including Apple CarPlay and Android Auto, as well as Opel OnStar.
Another rising star in Paris is the new Opel MOKKA X. The compact SUV model is wider, more solid and muscular than its successful predecessor - it has everything to become an absolute favorite of buyers. The sporty, shiny SUV model impresses with its new front end design, while the interior is an expression of functionality and includes a neatly positioned instrument panel. It looks cleaner and simpler, but at the same time has sharper shapes and greater assembly precision. MOKKA X drivers can choose from a variety of high-tech versions of the next generation IntelliLink infotainment system; in addition, a high level of communication with Opel OnStar is available (standard for innovation level). Another highlight of the MOKKA X is the exclusive (optional) adaptive all-wheel drive system with an electronically controlled multi-plate clutch. It evenly distributes engine power between the front and rear axles, ranging from 100:0 to 50:50. This improves safety, reduces fuel consumption and significantly increases driving pleasure.
Visitors to the Opel booth can take a closer look at the Zafira (manual) and note its distinctive features. When the sedan reaches the malls in a few days, it will not only rely on the undeniably proven qualities of its predecessor, such as the Flex7® seating system and AGR-certified front seats (Aktion Gesunder Rücken eV). FlexFix® bike transport system and FlexRide adaptive chassis. The new Zafira has a new look, a bold look, an extremely spacious atmosphere and incredible connectivity. Opel's latest generation IntelliLink infotainment system is compatible with both Apple CarPlay and Android Auto, depending on the end device. For the first time in this vehicle class, Opel is offering the latest generation of adaptive front lighting (AFL) with LED technology as an option. This turns the new Zafira into a comfortable mobile wheelhouse for driver and passengers.
The new Cascada Supreme, an all-season convertible, will also be the focus of Opel's booth. Every detail and every color tone is exactly matched. The four-seat convertible will soon be available with Pull Me Over Red, Summit White or Black Meet Kettle. These three body colors are uniquely highlighted by a black grille, black mirrors and two-tone lacquered black 20-inch aluminum wheels. Inspired by the bold red signature line of the futuristic Opel GT Concept atelier, seat seams, door and interior trim elements are accentuated in sporty red.
Опубликовано: 28 августа 2023г., 17:58.
Прямая ссылка на пост «Opel at the Paris Motor Show 2016»