PEUGEOT 2008: confident ahead
469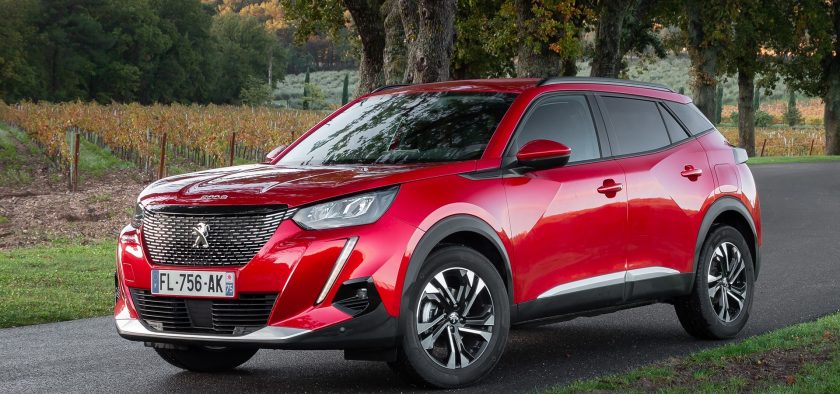 After three years on the market, with over 580,000 units produced and delivered to 500,000 customers, PEUGEOT is introducing an updated version of its popular 2008 model. The compact SUV, which arrived in Bulgaria shortly after the premiere, shows a significantly revised design and improved range. engines and ergonomics, increased comfort and, last but not least, a much more mature and stylish appearance.
While the original 2008 Peugeot had an overall youthful, sporty and seemingly casual look, its successor entered the market with a much more confident presence, with a number of additional touches to emphasize its more balanced character. This is a completely new front end, dominated by a new vertically positioned solid grille with chrome frame, new fog lamps with a chrome element and a boomerang element, contrasting color combination design on the exterior and others. The French brand's compact SUV comes with three basic and well-known equipment levels, but the new GT line has already been added to them, with which the company demonstrates its commitment to reach as wide a group of consumers as possible.
The interior of Peugeot 2008 is still spacious and ergonomic, the French brand relies on shapes and materials that are pleasing to the eyes and hands. The designers of the French brand paid special attention not only to those parts of the interior with which we most often come into contact, but also to such as the upper part of the steering column, which we rarely touch. A combination of light and dark, matte and gloss, and the overall feel is close to what is known from much more luxurious cars.
A strong highlight in the interior of the Peugeot 2008 is the i-Cockpit integrated infocomm and multimedia system, which has proved successful and has been used by more than 2.2 million built-in cars of the French brand. This is an elegant upper mid-dash finish that rises above the middle vents in a contrasting black and gray color scheme.
The 2008 Peugeot seats, both front and rear, provide superior comfort even on long journeys, and the driver and front passenger can also count on the extra lateral support they offer when cornering. The rear row is divided from 1/3 to 2/3, which is a guarantee of additional cargo space if necessary. With the standard seat configuration, the free volume is 410 liters, and if necessary, it can be increased to 1400 liters. Loading and unloading is made as easy as possible thanks to the low boot sill.
In terms of versatility and applicability, the 2008 boasts another benefit, the Adaptive Grip Control system. The system offers five main modes: from Standard for normal roads, through Snow, All-Terrarin / off-road, Sand / Sand and ESP off /, in which the electronic stabilization program is turned off when driving at speeds up to 50 km. / h, since the ultimate goal of Grip Control is to provide optimal grip and therefore the safest possible driving. Grip Control is available in both petrol and diesel versions of the model, equipped with a manual or automatic transmission.
Additional safety and peace of mind when driving in urban areas, 2008 promises thanks to the Active City Brake active safety system. It aims to minimize or eliminate the possibility of collision at low speeds by automatically applying the vehicle's braking system. More inexperienced drivers can rely on semi-automatic parking assistance.
The 2008 Peugeot boasts a number of other new technological breakthroughs, including new options for integrating iOS and Android mobile phones, but if we have to focus on just one of them, it will certainly be a new addition to the model's engine lineup. - 1.2-liter, three-cylinder, PureTech drive.
This compact and small engine, available in three power levels - 82, 110 and 130 horsepower, is able to pleasantly surprise even the most ardent opponents of a three-cylinder configuration. During our test, the engine's inter-turbo was a real pleasure, enjoying dynamic performance both on the highway and on rough terrain and on a worn intercity road. The drive is impressively agile, delivering power across the entire mailing range. For balanced behavior on the part of the driver, the modification is awarded with an average fuel consumption of less than 6 liters per 100 kilometers, and when "flirting" on the highway, the consumption slightly exceeds the limit of 6 liters.
Complementing the PureTech three-cylinder engine is a new six-speed automatic transmission. Equipped with Quickshift technology, it offers a choice between fully automatic and semi-automatic operation, with the driver having the option of shifting gears with the lever when the latter is selected. Regardless of the choice made by the driver, he can look forward to pleasantly fast shifting between gears, and in manual mode, a slight optimization of fuel consumption is possible.
For lovers of diesel engines, Peugeot (http://www.peugeotbook.ru/en) provided the opportunity to order 2008 with a 1.6-liter BlueHDi engine, available in three power options - 75, 100 and 120 horsepower.
Опубликовано: 28 августа 2023г., 18:00.
Прямая ссылка на пост «PEUGEOT 2008: confident ahead»